BACK TO HOME
Genesis Interoperability Module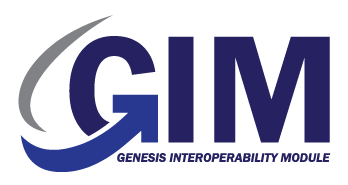 GIM ALLOWS YOU TO ACHIEVE INTEROPERABLILITY UTILIZING YOUR EXISTING SYSTEM!
GIM can be utilized by any user, regardless of whether they utilize Genesis' software or not.
GIM is the interface which allows the transmission of Vital Record information directly from a hospital and/or OB/GYN Electronic Medical Record System into any Vital Record modules (currently Birth, Death and Fetal Death) without the need to re-key the information. When utilized, GIM provides improved speed of reporting and, more importantly, data quality. GIM is configurable beyond the profiles, which allows any sending entity to transmit data to GIM in a variety of formats including HL7 (Messaging and CDA), XML, CVS, ASCII, Excel, etc. and accommodating the sending entity's capabilities. GIM is also capable of outbound transmissions to the sending entity and other recipients in the above formats. GIM is available to be utilized in all receiving and sending transmission needs. A goal of Genesis is to provide high quality, homogeneous and empirically correct data. GIM fits the bill perfectly.
Genesis also took GIM a step farther by allowing data edits to be configured with it. What this means is that all data edits (regardless of requirements) can be configured within GIM. This allows GIM to fire those edits and verify data prior to passing it along to its final recipients (Vital Record systems, Birth Defects Registry, HIV systems, various registries/recipients, etc).
BABY'S BACKGROUND INTEGRATION
Baby's Background (BBG) is a public facing website which is available to expectant parents. BBG provides expectant moms and dads the ability to provide "Mother's Worksheet" information prior to delivery instead of the traditional after delivery rush to gather this critical information. Genesis believes this will result in better data quality and allow parents to focus on the newborn…as they should.
BBG is fully integrated with GIM so that the EMR data and the parents' information are combined and edited prior to insertion into the vital record system.
BBG offers State Departments of Health/Vital Records the functionality that allows expectant parents, or others, the ability to complete the Mother's Worksheet information, any time prior to delivery, The Mother's Worksheet information captured within BBG gathers demographic, socioeconomic, and other information typically gathered after delivery, which Genesis believes is not the best time to gather it.
BBG allows for State specific information to be captured that otherwise may not be available in EMR's. The additional State data captured in BBG is also editable using the configurable edits in GIM.
BBG can be configured to allow OB/GYN offices to enter directly or interface directly.
BBG also allows parents to pre-order certified copies of a birth certificate from the State Vital Records system.